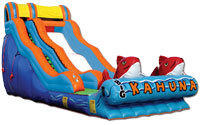 Dry Big Kahuna Slide

Actual Size: 36L x 15W x 18H

Outlets: 2

Monitors: 1
For Dry Use Only

The Big Kahuna dry slide is perfect for little beachcombers and surfers at your festival or party. This exciting ride allows participants to climb 18 feet to a No-Jump Top, which forces riders to slide down correctly, keeping them secure. A midway hump will have riders saying "Cowabunga!" into the safety-ended pool at the bottom of this impressive wet/dry slide.
This wet or dry slide is an amazing inflatable slide. Our slides are made safe and secure with lite n strong™, fire-resistant vinyl making it safer, and more durable.
Details:
The Big Kahuna Waterslide is 36'L x 15'W . If using as a waterslide it has a drip line that connects to your garden hose (garden hose not included).
Entry ramp and safety instruction.
Adult and teen use is acceptable
Conditions
Measured free space of 19' by 40'.

If we need to bring it through a gate or a doorway, it must be at least 36 inches wide.

The path to the setup location must be clear and relatively flat. The entire path must be at least 36 inches wide and have 6 feet of vertical clearance. We cannot move over or around gas meters or drain pipes.

The air space above the setup location must be completely clear of branches, power lines, or any other obstacle less than 20 feet from the ground.
**Be sure your planned set up location meets these specifications before your rental. If all of the above conditions are not met, it will be physically impossible to setup the waterslide for your rental.

SIZE 36'x15'x17'